For every gamer, the controls are vital for a complete experience. The keyboard is a fundamental piece, and we are not talking only about the main function it fulfills, but about all its possible variants, and terms that refer to its force of action, actuation point, rollover, etc.
If you are looking for a good gamer keyboard, you cannot stop buying a mechanical keyboard, which has reached a great boom in the market. Below, we'll tell you about all the variants of mechanical keyboard switches, including Cherry, Razer, and Topre, among others.
Why choose a mechanical keyboard?
There are several reasons to prefer a mechanical keyboard, but mainly we can summarize in:
Mechanical keyboards can minimize keystroke errors while gaming or typing. Depending on the type of switch you buy, you'll notice that the way you type and the "feedback" you get is very different than a membrane keyboard.
They tend to be stronger and more durable. Depending on the model you buy, the keys are designed to withstand tens of millions of keystrokes, far exceeding the expectations of a typical membrane keyboard. Plus, since the switches are mechanical, the keys are easily removed, making cleaning and maintenance a breeze.
Mechanical keyboard terminology
Now getting into the matter, it is important to know some terms used when referring to these mechanical keyboards such as:
Actuation point
This term is used to refer to the distance required between the moment you click and the action on the screen, which is important from the point of view of the reaction, which in many games requires it to be fast and precise.
Actuation force
It refers to the force required to actuate the switch, which can be useful for one function or another. Depending on the force that is exerted, these keyboards and switches can be very useful for gaming, typing, or other tasks.
Full tour
It refers to the maximum distance that the switch can travel.
Reset point
It is the distance that must be traveled before pressing the key again. In a certain way, it is the opposite of the actuation point and at the same time, it is complementary to it, since both characteristics will define the quality of said switch.
Refresh rate (Hz)
It's a term used to refer to how often your computer checks for incoming USB data (in this case, keyboard input).
Types of mechanical keyboard switches
Once you know the basic terminology, you can choose the switches that best suit what you need and learn a little more about some of the brands and characteristics of mechanical switches that the market offers.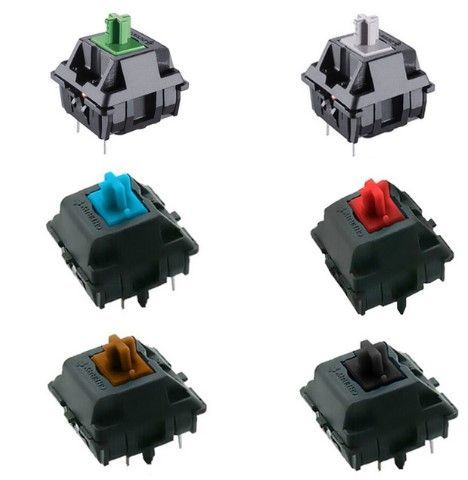 Cherry
Cherry Corporation was founded in the United States in 1953 and began producing keyboards in 1967, making them the world's oldest keyboard manufacturer still in business. The company moved to Germany in 1967 and was acquired by ZF Friedrichshafen AG in 2008, but mechanical keyboards and switches continue to be manufactured under the Cherry brand.
Cherry MX Red
Best for fast-paced games
Not recommended for: typing
At the time they were considered by many to be the best mechanical gaming switches. Perfect for games where double tapping is essential. Although it is one of the best, it is not recommended for typing because its sensitivity will cause the keys to activate at the slightest touch, which would hinder the writing process.
Cherry MX Blue
Good for: Typing and some games
Not Recommended For: People who prefer quiet handling, fast-paced games.
Unlike the previous switch, this one is designed for people who are dedicated to writing, bloggers, or people who work with social networks.
Cherry MX Black
Ideal for: RTS (Real-time strategy) games and other genres that don't require fast keystrokes.
Not recommended for: Writing
Another linear switch, the Cherry MX blacks are ideal for RTS games due to their unimpeded movement on keypress.
It's not a popular switch for shooter games, because it requires 60 grams of activation force to register on the screen. However, it has the same actuation point as the Reds Cherry MX which is 2mm away.
Cherry MX Brown
Good for: Typing and gaming
Not ideal for: People who want an audible click when typing
Cherry MX Browns are considered a middle ground between the above, great for both gaming and writing. This is due to its tactile sensation as it only requires 45 grams of actuation force.
Also, Cherry MX Browns are quiet switches, they don't produce a lot of noise at least compared to other switches like the blue or red Cherry ones.
Cherry MX Speed
Best for: Especially fast-paced games
Not recommended for: Typing
Cherry MX Speed ​​Switches is a relatively new switch and its purpose is to delight gamers who require fast and quiet typing.
It still requires the same actuation force as the Cherry MX Red, with the exception that its trigger point is only 1.2mm.
This translates into fast keystrokes that can make all the difference in competitive online games.
Razer Mechanical Switches
There has been a lot of controversy surrounding Razer mechanical switches, as they originally featured a Cherry MX switch, but the company has since gone on to mount their switches exclusively.
At first, they assembled a Chinese manufacturer (Kaihua Electronics), which generated many doubts and criticism regarding its quality. Currently, the actual manufacturer of its switches is not known with certainty, although it is true that from what we have been able to test, Razer switches are quite reliable and durable.
Razer Green
Best for: Gaming and typing
Not Recommended For: People who prefer a quieter mechanical switch.
Here we find a switch very similar to the Cherry MX Blue. They differ in the actuation point which is 1.9mm and only requires 55 grams of actuation force.
The company has stated that Razer Mechanical Switches are geared towards gamers, especially because of the much lower actuation point, which requires only minor touches to activate. But what stands out is the duration of each key of up to 80 million keystrokes.
Razer Yellow
Best for: Games
Not recommended for: Typing
It was not a very well-received switch in its early days, since the touch is somewhat similar to membrane keyboards. Nowadays it is usually a good option for those gamers who are in the transition from a common keyboard to a mechanical one.
Razer Orange
Great for: Gaming and typing without that loud clicking sound
Not Ideal For: People who want to hear the mechanical sound of switches
If you find the noise generated by mechanical switches annoying, for example, the Razer Green Switches, then these are a good option. They are similar to the Cherry MX Brown in that they have the same point and required actuation force, however, the pulsation feels different.
Kailh switches
Kailh produces switches that perform almost identically to the original Cherry designs. It is a company that has emerged and started to compete in the market since the Cherry Corporation lost its patents on mechanical switches. If you're familiar with Cherry switches, their operation is similar: Blue is a harder tactile switch, Brown is a tactile switch, and Red is a fast-response linear switch.
Kailh brown
Good for: Gaming and typing
The Kailh Brown is almost similar to the Cherry MX Brown except that it requires 50 grams of activation force compared to 45 grams for the Cherry MX.
It has the same actuation point at 2mm and the same total travel distance of 4mm. This is a quiet switch, but there is a noticeable tactile bump when pressing the key.
Kailh red
Ideal for: Gambling
Not recommended for: Typing
The Kailh Red switches are very similar to the Cherry MX Red, except that they require 50 grams of actuation force for the key to actuate instead of 45 grams.
It is also a linear switch and has almost the same sound output compared to the Red Cherry MX. As for typing, opinions are mixed, some people are comfortable typing with this type of switch, while other writers shy away from it as they are prone to accidental typing.
Kailh blue
The Kailh Blue switch is identical to the Cherry MX Blue. It requires the same actuation force at 60mm and also has the same actuation point at 2mm. The feel and other aspects of the switch are identical, but the sound is different and often criticized the most when compared to the Cherry MX.
Kailh Quick Switches (Silver, Copper, Bronze, Gold)
As explained above, Speed ​​switches are essentially shorter versions of existing MX-style switches, allowing for faster actuation, and are intended for gaming. While Cherry produces a shortened linear switch, Speed ​​Silver, Kailh produces four different shortened switches: Silver, Copper, Bronze, and Gold.
Romer-G Switches
Best for: Games
Not recommended for: Typing
Romer-G mechanical switches are found in Logitech's new gaming keyboards and are very pleasant to the touch.
At first, people were not well received, especially since their touch is somewhat reminiscent of the old membrane keyboards. But it's a really good switch, and experts recommend it for people transitioning from both types of keyboards.
It has an actuation point of just 1.5mm and requires 45 grams of actuation force. Before Cherry MX speed switches were born, the Romer-G switch was heralded as the fastest mechanical switch for gaming.
QS1 switches
Ideal for: Gambling
Not recommended for: Typing.
QS1 switches are for players looking for speed. It has the same features as the Romer-G switch, a 1.5mm actuation point, 45 grams of force, and the travel distance is the same at only 3mm. Steelseries QS1 Switches are specifically designed for all gaming genres, but it's mostly used for fast-paced gaming. The keypress sounds smooth, not the typical "click" sound of other mechanical switches.
Topre Switches
Topre switches are not as popular as the aforementioned switches, due to the higher-priced keyboards that have them. The interesting thing about Topre switches is that they have different actuation forces.
Four Topre switches have variable actuation forces such as 30g, 35g, 45g, and 55g. They have the same 2mm actuation point and the same 4mm total travel distance.
The good thing about these switches is that they are very versatile, which means that it is not only suitable for typing, but also gaming. Plus, they're almost as quiet an option as membrane keyboards.
Noise
Yes, mechanical keyboards are louder than their scissor-switch membrane counterparts. However, depending on the switches you get and the way you type, they don't have to be obtrusive and loud. Depending on the type of switch you buy, it will make more or less noise. However, a mechanical keyboard is generally louder than a standard keyboard.
In this video you can see the difference in sound between the different most common Cherry switches:
Also, read about The History Of The Keyboard
Abram left his e-business studies to devote himself to his entrepreneurial projects. In 2017, he created the company Inbound Media and wrote articles about high-tech products for his Chromebookeur site. In 2019, Chromebookeur was renamed Macbound and became a general purchasing advice site. Today, Abram manages the development and growth of Macbound, surrounded by a young and talented team.